The QAINT Project is implemented by a consortium of three implementing partners:

Kosova Education Center (KEC)
Kosova Education Center is a local non-government, non-profit organization, established in 2000. At the beginning, KEC focused mainly on offering in-service teacher training programs. Although trainings still remain an importantat aspect of KEC's work, the organization has over the years extended its activities to four main areas: 1) Improvement of the quality of education, 2) Human rights, 3) Networking and participation in policymaking, and 4) Education research. KEC collaborates with a wide range of local and international partners, which includes non-government organizations, consulting companies, development agencies, and state institutions. Since 2004, the Third Millenium (K-12) school has been operating as part of KEC.

Organizata për Rritje të Cilësisë në Arsim (ORCA)
The Organization for Improvement of the Quality of Education (Alb. ORCA), was established in 2016 in Prishtina, with a mission to contribute to the improvement of the quality of education in Kosovo and its main focus on education at the university level. ORCA is active in overseeing academic processes in higher education in Kosovo, and in coordinated reaction in favor of the improvement of the quality of teaching in public universities. The fulfillment of this goal is enabled through careful and methodical consideration of academic developments, in collaboration with experts from different fields, and academics with merit-based credentials. Likewise, ORCA is engaged in reviving public university student activism through collaboration with student organizations and by raising awareness for capacity-building of the wider student community to take action on the ground. Along with raising the public and institutional pressure, ORCA will also provide concrete recommendations to relevant institutions on the improvement of the situation in education in Kosovo.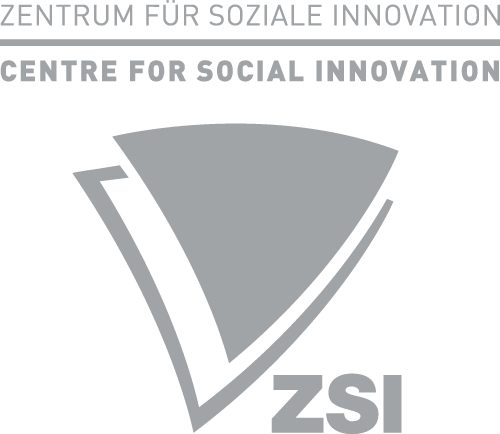 Qendra për Inovacion Shoqëror (gjer. ZSI)
ZSI is a private non-profit institute for applied social sciences based in Vienna (Austria).
ZSI implements research and application projects on the social embedding and impact of all types of innovations and contributes to the design and diffusion of socially accepted and sustainable innovations to meet global challenges. As an independent scientific institute, ZSI generates, disseminates, and applies knowledge and skills in the following thematic areas that relate to meeting the grand societal challenges of our time, from the local to the global level: 1) Work and Equal Opportunities, 2) Technology and Knowledge, and 3) Research Policy and Development. ZSI services cover a broad range of activities from use-inspired research, design and management of training concepts, courses, and academic programs to policy advice on strategic intelligence and design and monitoring and evaluation of projects and programs, and development and implementation of virtual and tangible networks.